Sunday Services at Didcot Baptist are relaxed and friendly and a wide range of people enjoy coming along and being involved.
The service starts at 10:30am and lasts about an hour and a quarter. We generally begin with a welcome and notices, and then have a time of singing and prayers. We would usually stand for singing and sit for prayers, but whoever is leading at the front will usually make that clear.
The children are generally in our main service for the first 20 minutes or so and then go out to their groups in other areas of the church building. If you are visiting with children, they will be most welcome to attend the relevant age based sessions. Splash (4-7 yrs old) use the Community Hall, Junior Church Juniors (7-11yrs old) use the Harry Lewis Hall, and Waves (11-16yrs) use the Waves Room. There is also a creche for children from 0-3 years which is in the Outer Hub (where there is also a live link to the service available here if you prefer to stay with your young child). Scroll down to the map below to help find your way around the buiilding to these groups (a member of the team will be available to guide visitors to the relevant sessions).
The sermon is always based on the Bible and seeks to connect the reality of faith in Jesus to ordinary, everyday life.
We finish with the offer of staying for a mug of tea or coffee, and biscuits (sometimes cake) and a chance to speak to other people. Please do stay and introduce yourself.
Communion
Communion is open to all who want to recognise and remember what Jesus has done for them. So please feel free to take the bread and wine (juice actually) or simply pass it on to the person next to you.
We usually eat the bread as we receive it and hold on to the cup and drink together as a sign of our fellowship once all have been served.
The Offering
As part of our worship an offering is usually taken, this is a chance for those who regularly the church to contribute towards its work locally and internationally. If you are visiting, please feel free to pass the bag on to the next person, unless you would like to share a gift. Many people also often give regularly by e-banking.
Finding your way around the building
Usually someone from the Welcome Team will be waiting at the front door - and a steward will be available to direct you towards The Sanctuary (our main worship area). There are toilets signposted in the building (and see layout below). During the service you feel free to pop out to use the facilities.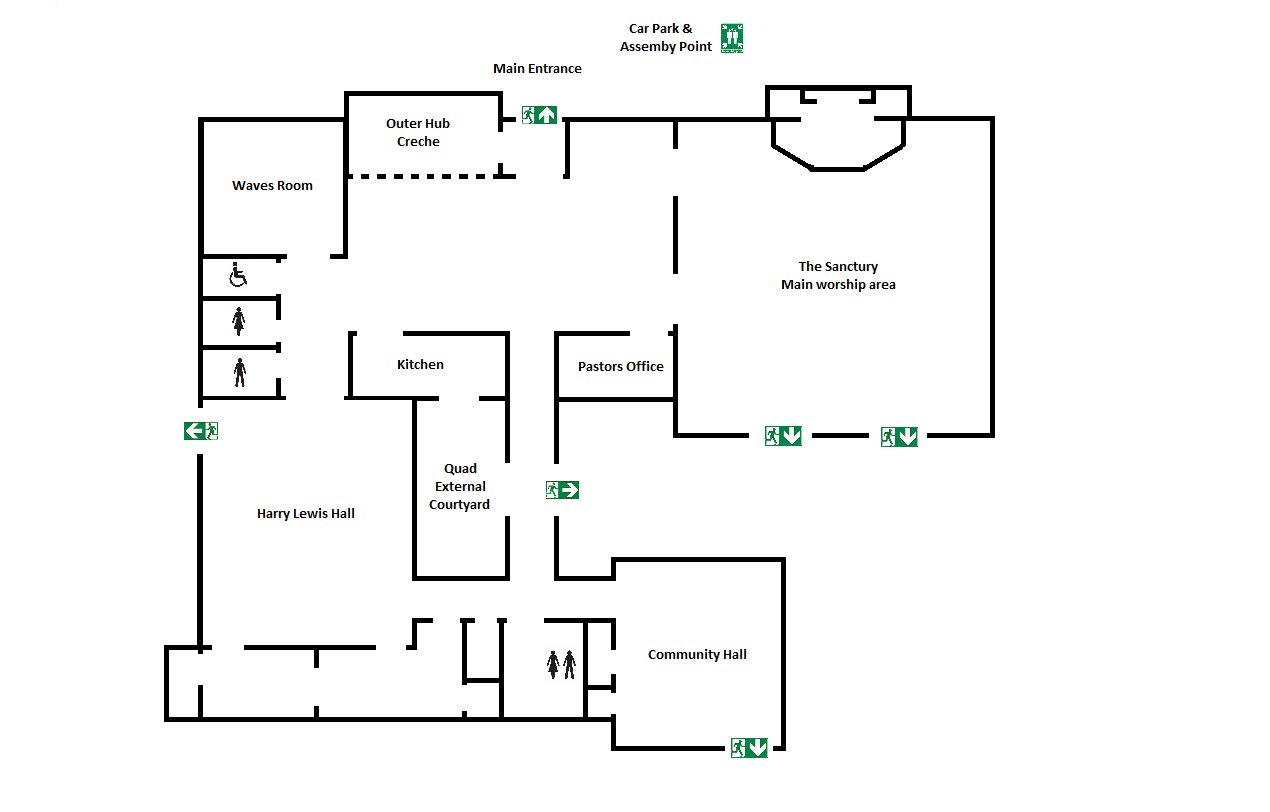 Geting Involved
One of the benefits of being church is about developing friendships. Apart from joining a small group, a great way to meet new people is to get involved in a practical way in the life of the church.
There are lots of opportunities to join one of the teams supporting the life of the church (both on Sundays and other days of the week).
Some teams like the Stewards and those serving tea & coffee require just a smile and a willingness to help. But you could also add your skills to the Worship, Sunday School or the Tech Team (amongst others).
Get in touch, either by speaking to any of the team members, or by filling in the form below and we will let you know what is needed. We're alway keen to welcome new members onto our teams. You might like to start with a conversation or a taster before committing to getting more involved - but we'd love to hear from you.